Vietnam still doesn't know how to spend money on tourism promotion
VietNamNet Bridge –

Surveys

have found out that 70-80 percent of foreigners traveled to Vietnam after they heard about the trips to Vietnam from relatives or friends, not because they got the information about Vietnam when they attended tourism trade fairs or roadshows, or seeing ads on CNN or BBC.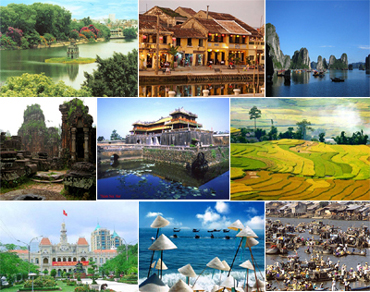 A senior

executive

of Trong Diem Trade and Tourism Company, which were present at the last 10 trade fairs in Berlin (ITB) has attributed this to the unprofessional and unmethodical advertisement campaigns carried out by Vietnam.
The number of German tourists to Vietnam in the first three months of the year dropped dramatically by 51.7 percent in comparison with the same period of 2012, even though Germany has been one of the key markets, where Vietnam regularly runs tourism promotion campaigns. Especially, the Germany – Vietnam

direct flights

allow travelers to take trips in a convenient and time-saving way.
The above senior executive said the ITB's organization board offered free

admission

to local people on the two last days of the trade fair, which attracted a very high number of visitors.
While it was very crowded and noisy at the other stalls, the Vietnamese stall was so quiet because many directors of travel firms left for Vietnam on the last two days.
The director of a travel firm that left before the closing ceremony said that he came there just to meet foreign partners, and he did this on the first days of the trade fair already. He did not think he needed to stay there for some more days, because Vietnam did not organize any special events to attract individual tourists.
Another director complained about the irresponsible preparation of the Vietnamese agencies for the trade fair. ITB opened on March 5, but travel firms were gathered just some days in advance, which forced them to make preparations in a hurry. Especially, the stall's layout of the Vietnamese stall shown to travel firms was quite different from the one used at the trade fair.
Vietnam, a poor country, once accepted to pay $300,000 to advertise Vietnam's tourism on CNN in 2007, and $400,000 to post ad pieces on BBC, CNN, and on 27 taxis in London in July 2009. However, no one can say for sure about the effectiveness of the ad campaigns.
In 2012, the Ministry of Culture,

Sports

and Tourism, once again, intended to spend big money to post ad pieces on 32 buses in Australia for one month. Travel firms then immediately criticized the plan, saying they could not understand what the ministry strived for when running the program.
A report by Nielsen, a market

survey

firm, showed that more and more tourists access Internet to seek tourism information. About 61 percent of tourists nowadays seek information about the destination points before or when they begin the trips, while 48 percent discuss about trips on online forums. The

advertisement on TV

and radio ranks nearly at the bottom of the list of the main channels tourists use to seek information.
Director of the Malaysian Tourism Promotion Agency–Victor Wee, has advised Vietnam not to scatter money everywhere, but focus on some key programs to attract tourists.
He himself admitted that he doesn't like watching TV. Malaysia once relied too much on TV ads, while did not make appropriate attention to Internet, which turns out to be a very effective and cheap advertisement channel