Quang Nam's ethnic villages top attraction for motorbike tourists
VietNamNet Bridge – The mountainous district of Tay Giang, 190km west of Tam Ky City in the central province of Quang Nam, is increasingly becoming known as a prime destination for motorbike adventures.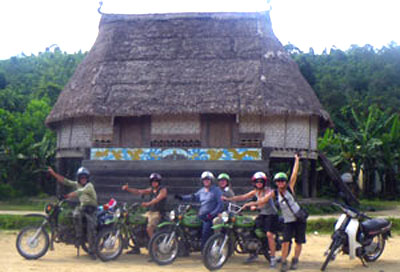 Comforts of home: Tourists can enjoy home-stay services
at ethnic Co Tu villages — VNS Photos courtesy Hoi An Motorbike Adventures
The area offers amazing scenery and the opportunity to glimpse the lifestyle of members of the ethnic minority group Co Tu, who make up the majority of the district's population of 13,000.
Mark Wyndham, who runs a motorbike adventure tour company based in Hoi An, said the mountainous district had managed to preserve the original infrastructure and lifestyle of highland villages.
"Many foreigners who come to explore the region love this tour. The roads are easy to drive on since the province has developed infrastructure projects in mountainous areas, so international visitors can drive on their own from Hoi An to dozens of destinations in the central region," said Wyndham. "We are equipped with 45 motorbikes, scooters and off-road motorcycles to give adventurers as many options as possible. Our guides will even carry tourists if they do not want to drive themselves!"
A two-day trip through Dong Giang and Tay Giang districts is an easy option for motorbike adventures in the central region, he added.
Starting point
Tourists depart in the morning from the ancient town of Hoi An, a 17th century trading port recognised by UNESCO as a World Heritage site.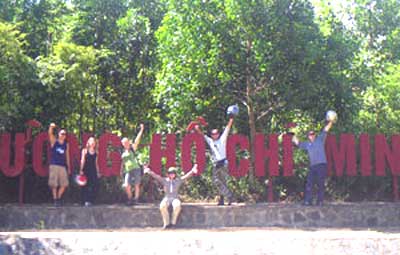 On the road: A section of the former Ho Chi Minh Trail
in the central Quang Nam Province is included in the motorbike tour programme.
"The countryside scenery of rice farms and quiet roads will fascinate tourists just a few kilometres from the start. They can see people working on endless green paddy fields, which they have never seen in Western countries," the tour operator speculated.
After an hour, tourists can stop at the 1,000-year-old Cham Temple of Bang An. Or they can get their adrenaline pumping with an abseiling descent down to "Hell's Cave" in Marble Mountain, located in Ngu Hanh Son District near Da Nang.
"If tourists want to go mountaineering on the first day, Marble Mountains will be the first stop of day one," said tour manager Phan Thi Hien.
The tour operators map out the way into the mountains to give tourists plenty of chances to stop for photos.
"Adventurers wind their way up into the hills towards the border with Laos, where there are many Co Tu ethnic villages, to take a break. The villagers offer visitors a refreshing shot of rice wine or two in their stilted houses before they continue the journey into the mountains," Hien said.
The cultural village of Bho Hong on the bank of the Con River is designed for a one-night stay after a 110km drive.
"After a long and thrilling first day's adventure we head for home – a small family-run guest house in the heart of the hamlet, with a choice of a home-cooked dinner or the opportunity to dine with locals for a delicious feast of authentic highland fare," the tour manager said.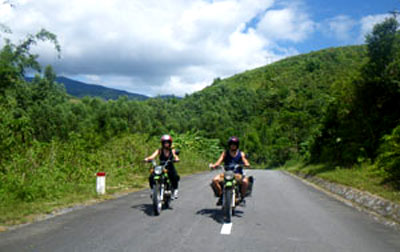 Easy riding: The former Ho Chi Minh Trail in central Quang Nam Province
is included in the motorbike tour programme.
"Motorbike riders can trek around the village or forests nearby before joining a night party with the host. Villagers may host a camp-fire where visitors and villagers drink rice wine from a jar while singing and dancing around," Wyndham added.
The second day begins with a hot coffee and a family breakfast before the tourists set off along the former historic Ho Chi Minh Trail.
Along the way, they pass lush forests and jaw-dropping views of central Viet Nam's mountains. At lunchtime, they have a picnic at a waterfall tucked alongside a towering peak.
The afternoon continues with a ride toward the coast, stopping along the way to explore old bases from the American war. Crossing the Thu Bon River by local ferry, tourists follow the floating bridge road back into Hoi An.
Wyndham warns that the second day will be hard with 150km of riding.
Around 1,000 people each year embark on the tour, which costs around US$250 each person.
The tour operators said they assigned tour guides and mechanics to accompany travellers in order to keep them safe.
Tourists can select from 45 motorbikes including Belarus-made two-stroke Minsks, Honda sport bikes and scooters.
The tour manager suggested that a group of about 10 people is best for the two-day tour.
"We offer many different routes from Hoi An to destinations of Phong Nha-Ke Bang in Quang Binh Province or DMZ tour in Quang Tri Province," she said.
Those who prefer not to drive motorbikes can travel on 1960s military jeeps made in the US.
VietNamNet/VNS