Vietnam's aviation market too attractive to foreign airlines
VietNamNet Bridge – After several years of eyeing the Vietnamese aviation market, foreign airlines now move ahead with their plans to increase their presence in Vietnam.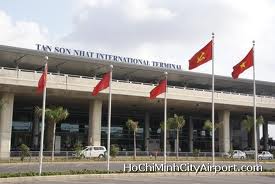 At the Vietnam-Ukraine Business Forum held in Hanoi late last week, Ukraine Prime Minister M. Azarov, emphasized that Ukraine really wishes to cooperate with Vietnam in the aviation sector.

The Prime Minister said it is the aviation industry which is one of the greatest advantages of Ukraine. It has Antonov, the aircraft factory which specializes in making very large transport aircrafts, inter-regional passenger airplanes with modern and safe technologies which are in no way inferior to any kinds of planes made in Europe or the US.

A lot of foreign aviation complexes have been taking steps to set their foot on the Vietnamese market.

David Cunningham, President of FedEx Express in Asia Pacific, has revealed that FedEx has applied for setting up a 100 percent foreign owned business in Vietnam.

In an effort to expand the Vietnamese market, Emirates airlines from the Gulf has recently launched Boeing 777-300ER for the direct air route HCM City –Dubai.

Prior to that, in June 2012, Emirates began providing direct flights between HCM City and Dubai with Airbus 330-200. However, later, in order to satisfy the increasingly high demand, Emirates has decided to use Boeing 777, which allows increasing the passenger transport capability by 50 percent.

Also from the Gulf, Etihad Airways of UAE plans to provide direct flights between Dhabi in UAE and HCM City in Vietnam in October 2013.

Etihad Airways' General Director James Hogan, said HCM City would be the new destination of the airline in South East Asia, together with Bangkok, Jakarta, Kuala Lumpur, Manila and Singapore.

He said that the daily flights of Etihad would not only target businessmen and travelers to Vietnam, but also strive to push up the trade and cooperation between UAE and Vietnam.

The airline has said it would exploit the new air route with Airbus A330-200. Eihad can also carry 10 tons of cargo on every flight between the two cities, especially garments and food products.

To date, Etihad has code-sharing flights with Vietnam Airlines to serve the Eithad's passengers who want to travel from Bangkok and Kuala Lumpur to HCM City and Hanoi.

Etihad has also signed a strategic agreement with Air France-KLM on the code-sharing flights of the two airlines, commencing from October 28, 2012. Meanwhile, the Hanoi – Abu Dhabi air route would be opened soon.

Qatar Airways from the Gulf has been providing the flights between Vietnam and Qatar, with the aircraft landing at both the Noi Bai airport in Hanoi and Tan Son Nhat airport in HCM City.

Kazakh Air Astana has revealed its plan to launch the direct air route from Almaty to HCM City, slated for mid-December, or early January 2013. The flights, two a week, would be taken with Boeing 757 with transits in Bangkok.

Indian Jet Airways is conducting market surveys in its plan to open the Mumbai –HCM City air route in the future. This is the next step taken by Jet Airways after it signed a memorandum of understanding with Vietnam Airlines in October 2011 on the opening of the air route HCM City – Bangkok – Mumbai.

Turkey is also moving ahead with the plan to provide direct flights between Turkey and Vietnam. At present, Turkish Airlines provides four flights a week from Istanbul to HCM City.
DDDN