Hue Festival 2014 to welcome 100,000 int'l visitors
Hue Festival 2014 to welcome 100,000 int'l visitors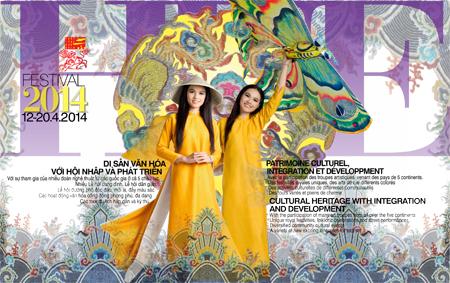 Hue Festival 2014's organization board expects to be received around 100,000 international visitors, up 20 percent over 2012.
So far 45 art troupes from 35 countries and five territories from around the world have registered to participate in the biennial Hue Festival in Hue City of Thua Thien-Hue Province scheduled to take place from April 12-20.
The event will also see agreements concerning development and co-operation of culture and tourism in the ASEAN +3 Ministerial Meeting on Culture and Fine Arts from April 16-21.
The provincial authorities will upgrade transportation infrastructure by air, land and sea; control sudden increase in price during the festival; offer promotion programs and new tourist products and tours to traditional handcraft and new tourism complexes to attract more visitors.
The numbers of tourists to Thua Thien-Hue have constantly increased. The province received 2.6 million holiday makers in 2013 and is expected to welcome 2.8-3 million tourists, including 1.2-1.3 million foreign visitors in 2014.
Indonesian travel agencies explore central region
Representatives from Indonesian travel agencies and media from Solo, Jogyakarta, Semarang, and Makasar will begin familiarisation trips to Hue, Hoi An, My Son and Da Nang on January 10.
The trips, which are organised by Singapore's SilkAir and Hue-based Asiana Travel Mate, seek to connect world heritages sites, including My Son Sanctuary, the Hoi An ancient town and Hue, with Indonesian sites.
SilkAir, the regional wing of Singapore Airlines, opened direct flights from Da Nang to new destinations in Solo, Jogyakarta, Semarang and Makasar last year, with four flights weekly to each destination.
These are the first familiarisation trips to be held in the central region to boost tourism between the region and new destinations in Indonesia.
Fiditour caters to 110,000 MICE tourists in 2013
The number of MICE (meeting, incentive, conference and exhibition) tourists Fiditour served last year totaled around 110,000, up 28% from the previous year.
Tran Thi Bao Thu, marketing and communications manager at Fiditour, said that the firm welcomed many MICE groups of up to 300-5,000 tourists last year. Tourists often chose well-established destinations like Hanoi, Halong, Danang, Nha Trang, Mui Ne, HCMC and Vung Tau.
In the outbound segment, groups traveling overseas were smaller with 55-100 people each and traveled to Bali, Berlin and Singapore normally to attend international conferences and exhibitions.
Last year Fiditour also recorded good growth in MICE tours from foreign countries with many groups of 100-300 tourists each from Australia, Japan, Singapore, Poland, the Netherlands and France.
"Late last year, we had a MICE group of over 600 people traveling to Danang. The number of MICE tourists is growing well and currently accounts for over 60% of the firm's total number of tourists," Thu said.
In related news, a group of 240 people of different nationalities who are mainly doctors and medical experts will be in HCMC on January 8-10 to attend the fourth international conference on intervention in congenial heart diseases, according to Saigontourist Travel Service Company.
Saigontourist is in charge of arranging programs for groups coming to HCMC to attend the conference such as conducting meetings with big hospitals in the city.
Saigontourist launches new tour to Vung Chua
Saigontourist Travel Service Company has just opened new four day tour program from Ho Chi Minh City to Vung Chua-Yen Island in Quang Binh province. Tour was started
Accordingly, Saigontourist will welcome visitors departing from Ho Chi Minh City to Quang Binh province every Sunday morning.
Taking this tour, visitors will travel to five tourist destinations such as Vung Chua, Phong Nha, Quang Tri, Hue and Da Nang.
Besides, the visitors will have an opportunity to visit several famous tourist spots such as Phong Nha cave, Hoi An ancient town, Hien Luong Bridge, Ben Hai River, Quang
Tri citadel, La Vang Church, Thien Mu Pagoda, Tu Duc Mausoleum and highest statue of Buddha in Vietnam.
The organizers also hold solemn ceremonies in order to commemorate General Vo Nguyen Giap in Vung Chua-Yen Island, where late General laid for rest , including visiting General's grave and offering incense.
Four day tour costs from VND 4.16 million per a person.
Hanoi plans to attract 3 million foreign visitors in 2014
The capital city of Hanoi plans to welcome 3 million foreign tourists this year with a hospitable and safe environment for both visitors and enterprises.
At a talk on the capital's tourism development in Hanoi on January 8, Director of the municipal Department of Culture, Sports and Tourism To Van Dong vowed all possible changes to make Hanoi live up to its reputation as an attractive destination.
Specifically, the Ba Vi – Suoi Hai area will be transformed into a national tourism park while projects redeveloping the popular Giong festival space and increasing community-based tourism to Ba Vi will be completed.
Areas around Ngoc Son temple, Sword Lake, Hoa Lo Prison and the Temple of Literature will have better infrastructure and tourist services.
The department is asking for 50 hectares of land near Nhat Tan – Noi Bai highway to build a display space for Hanoi traditional craft products.
The sector will also work and spend hard to popularise images of the city. A tourism promotion unit will be run by the municipal People's Committee, instead of the department.
The cost to promote tourism in Hanoi stands at a modest 1 USD each person, while in Ho Chi Minh City, the figure is 2.5 USD. That compares to Thailand, Singapore and Malaysia which boast respective spending of 10, 16 and 20 USD per person.
Nguyen Bich Dung, Sunway Hotel Director of Business and Marketing suggested the sector team up with global airliners to launch direct flights to Hanoi.
In the recent past, Hanoi has launched a hotline to deal with complaints by tourists and kept a close watch over tour guides and transport.
Last year, the city greeted 2.58 million foreign arrivals, up 22.9 percent year-on-year, generating 38.5 trillion VND (1.83 billion USD) in revenue – or 14-15 percent of its gross domestic product.
Phu Yen launches website to draw Russian tourists
The central Phu Yen provincial Department of Culture, Sports and Tourism has launched a Russian language tourism website at phuyentourism.gov.vn.
The website, established on the foundation of the Vietnamese version, includes main columns introducing tours, hotel services, news, destinations in Phu Yen, information about Phu Yen tourism and a photograph library.
Over the past two years, Phu Yen has seen increasing numbers of Russian tourists coming to the province. The provincial tourism sector defined Russia as a strategic market because the demands and tastes of Russian tourists are well suited with the existing infrastructure condition and tourism products.
The launching of the website is expected to contribute to promoting the potential, strengths and landscapes of Phu Yen to attract more Russian tourists.
The province is endowed with bountiful natural resources, which underpin the development of tourism - a key sector set to spearhead the provincial growth plans. Local tourism potential is based on its natural and cultural resources.
Phu Yen boasts a diverse landscape of mountains, rivers, lagoons and fertile plains with nearly 200 kilometres of shoreline along Vietnam's curving south-central coast.
The province's system of islets, islands, rock fields, lagoons and bays is unique, with the most famous ones being Xuan Dai bay, O Loan lagoon, Ganh Da Dia (Da Dia Cliff), Hon Chua and Hon Lao Mai Nha.
Phu Yen is also home to several hundred relics, including 18 nationally recognised historical, cultural, art, archeological and architectural sites and natural charms. Local feasts, villages and authentic foods are also valuable to tourism development.
Provincial capital city Tuy Hoa offers a good base for exploring the beaches, bays and offshore islands up and down the coast, with an ancient tower to see and a large seated Buddha on a hilltop just north of the city. The nearby Vung Ro Bay features a deep-sea port and a forest reserve in its surrounding hills home to a number of rare and exotic plants and animals.
The province's overall social-economic development plan to 2020 set a target to turn Phu Yen into a big tourism and services hub in the region and the country as a whole.-
VNA/VNS/Nhandan/SGGP/SGT