VietNamNet Bridge - One of the biggest gamblers ever at the Do Son Casino, Hai Phong City, is Ngo Xuan Phuong, a Vietnamese Japanese, who is believed as a transnational drug trafficker.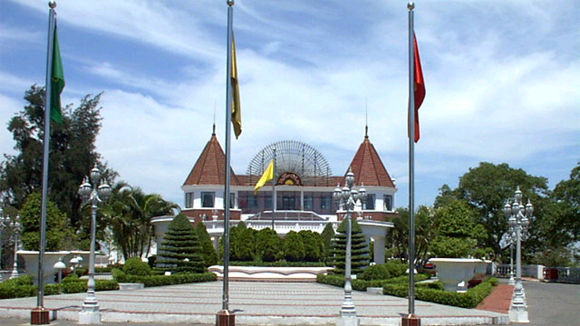 Do Son Casino, in the northern port city of Hai Phong.


Right in front of the gate, we saw three layers of protection checkpoints. A billboard noted to not welcome players less than 18 years old; guests cannot bring in cameras and bags.

Following Mr. Tien Chi Kien, special assistant to the General Manager of the Do Son Casino, we took the elevator to the third floor through multiple layers of strict control.

Working at the Do Son Casino since its establishment, Kien knew about this casino more clearly than anyone else. Kien said like other casinos, cash is not used here. Money must be converted into chips, with the par value from $5 to $1,000.

In the lobby of hundreds of square meters of Do Son Casino, there are dozens of gambling tables, with four main games: Baccarat, Black jack, Roulette and Big-small.

Kien said European customers prefer playing Roulette, while most Japanese, Korean, Chinese and overseas Vietnamese like playing Black Jack or Baccarat. "Just lucky or not, no such thing as cheating here," Kien confirmed.

There are three Baccarat tables at the middle of the room, with different bets, ranging from $20 to $15,000. An employee explained that Baccarat has two betting doors for the player and the banker. In each game, the dealer will collect 5% of the amount of the winner, as service charge.

Running betting tables were young Vietnamese dealers. Their skills can be recognized through the way they deal cards and collect the money.

"Dealers are absolutely not permitted to commit a fraud. If a deal is suspicious by gamblers, he will be immediately replaced," Kien said.

In addition to the camera system to monitor all the tables, each shift has two supervisors, who usually come from Hong Kong and Macau. If there is any problem or complaint, they will handle.

Kien said the casino also has VIP rooms reserved for the guests who play big games.

Mr. Tran Phuong An, First Deputy General Director of the Hai Phong International Tourism Joint Venture Co., Ltd., said visitors to Do Son Casino just for entertainment know when to stop. However, those who are addicted to gamble are very easy to "die."

Over 10 years with the Do Son Casino, Mr. Kien has witnessed many "big bosses" losing all their money here.

Kien said one of the "thirstiest" gamblers is Ngo Xuan Phuong, a Vietnamese Japanese, who is believed to be a transnational drug trafficker.

Phuong used to be a VIP guest of the Do Son Casino 10 years ago. He only played Big-small; each game was never less than $5,000. He lost VND4-5 billion at this casino. This amount was huge ten years ago. Another example isTran Manh H., the boss of a popular taxi firm in Hai Phong city. H went bankrupt by gambling.

An said his company cooperated with nearly 200 domestic and international tour operators to seek clients. On average, each year the casino welcomes about 12,000-15,000 visitors.

He also said that since 2007, after Mr. Nguyen Dieu Do, a customs officer was shot dead at Do Son Casino. The company has tightened management to prevent Vietnamese gamblers. In fact, Do went to the casino that day with an overseas Vietnamese.

According to an investigation, Do usually appeared at Do Son Casino as a gambler and lender. He was killed by four gamblers and lenders at the casino on November 28, 2007. The killers claimed that he owed them tens of thousands of dollars and denied to pay back so they decided to take his life.

Based on the actual operation of the casino, Kien said that some regulations on casinos are inappropriate, such as the ban of Vietnamese to the casino.

"In some cases, Vietnamese businessmen took their foreign partners to the Do Son Casino but only the partners could enter. This may affect the reputation of Vietnamese businessmen," he commented.

Meanwhile, Tran Phuong An proposed to open more casinos in Vietnam but under a specific plan and to have more open mechanism for casinos.

Compiled by Nam Nguyen
from 24h