Ho Chi Minh City: A little boy died of brain eating amoeba?
VietNamNet Bridge – A 6-year-old boy died and was found to have a brain abscess. Medical experts suspect that amoeba is the perpetrator.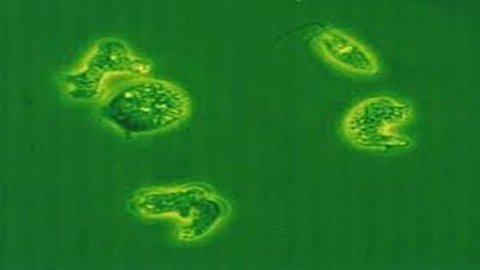 Amoeba, photo provided by Dr. Man.

On September 17, Dr. Phan Van Hieu, Director of the Ho Chi Minh City Center for Forensic Medicine told VietNamNet that his center had received a suspected death due to parasitic amoeba.

The patient is a 6-year-old boy, living in Binh Thanh District, who had an abscess in his brain.

"The center performed tested and suspects the culprit is the amoeba. However, to be more accurate, we have sent samples to the Tropical Disease Hospital for further tests using molecular biology techniques, from which we can find out the exact cause of death," Dr. Hieu said.

The test results will return in a week.

If the boy's death was caused by the amoeba parasite, this is the second cases of brain eating amoeba in Vietnam.

Last August, VietNamNet reported about a 25-year-old man, living in Phu Yen province, who died after amoeba went through his nose to his brain. This young man went to Ho Chi Minh City for treatment but did not survive.

Dr. Dinh Nguyen Huy Man, Head of the Laboratory of the Ho Chi Minh City Hospital for Tropical Diseases, the amoeba that killed the above guy is likely to be Naegleria fowleri, which is usually found in lakes, rivers and streams.

This parasite enters the nose, gradually creeps to olfactory nerve cells to find its way into the brain.

When entering the human body, the amoeba Naegleria fowleri prolifics, then moves to the brain. It will start eating the neurons, causing terrible headaches, high fever, and disorders of perception.

If being infected with Naegleria fowleri, the patient will suffer from meningitis. Although this rarely happens, but the disease is almost progressive leading to death (mortality rate estimated at 98 percent).

However, experts have confirmed such cases of amoeba infe
ction are rare.
Thanh Huyen