Three Vietnamese big guys arrested within 20 days
VietNamNet Bridge – The public has been dazed by the sudden news about the arrest of Nguyen Duc Kien, one of the most influential portraits in the Vietnamese business circle, and has started in surprise that three tycoons have been arrested just within 20 days of August.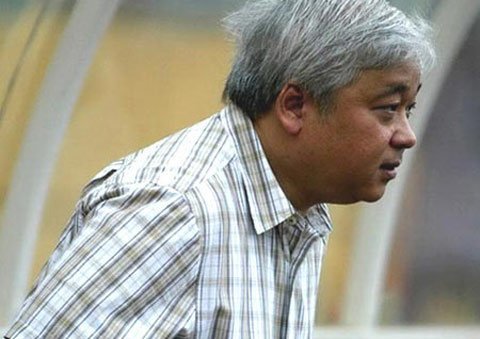 Nguyen Duc Kien
Nguyen Duc Kien - the big guy famous for shocking statements

The Ministry of Public Security arrested Nguyen Duc Kien on August 20 evening at his home, a villa in the West Lake area in Hanoi.

Kien has reportedly been arrested for his wrongdoings relating to three companies which have denounced the behaviors of Kien. These include the B&B Investment and Trade Joint Stock Company, the ACB Hanoi Investment Joint Stock Company and A Chau Hanoi Finance Investment Company Ltd.

Kien has been well known in Vietnam as a multitalented businessman. This explains why he succeeded in many different business fields and held important posts in businesses, from the chair of a bank to the chair of a bitumen joint venture, a shareholder of a of a fashion company to a chair of a football club.

In 1994-2008, Kien held the post of Deputy Chair of ACB Bank and once worked as the General Director of the bank for a period. In 2008, Kien and some other founding shareholders withdrew from the board of directors to form up a founders' council comprising of six members.

Kien has been well known as a big investor in football. He was Chair of Hanoi ACB Football Club, Deputy Chair of the Vietnam Professional Football Company. He recently made a lot of shocking statements believed to create a revolution in the Vietnamese football.

The Hai Phong's famous tycoons

Pham Van Thu, Chair and Chief Executive Officer of Thai Son Company and his son, Pham Hai Thanh, the two famous tycoons in the port city of Hai Phong were arrested on August 8, 2012.

The two big businessmen in the steel industry have been prosecuted for their behaviors of swindling and appropriating assets relating to the bank loans.

The arrest also caused a big surprise to the public, because the two businessmen were believed to "do business in a correct and legal way."

In 1995, Thu established Thai Son Company which then specialized in trading scrap steel and old ship devastation. In 2007, Thu expanded his business by jumping into the shipbuilding sector, ingot steel manufacturing and real estate. At that time, the company had the average turnover of 4 trillion dong a year.

In 2011, Thai Son was named in the list of the 500 private biggest businesses in Vietnam. It has been recognized as the biggest steel import and export company in Hai Phong City. The good reputation allowed the company to easily access bank loans.

However, since the steel price fell down by 50 percent in economic crisis in 2008, Thai Son bogged down in difficulties with the big inventories of 80,000 tons, which then led to the loss of 250 billion dong.

Thai Son also incurred the loss in the contract with ALCII, a finance leasing company on building three ships. ALCII became insolvent and stopped disbursement.

The defeats, plus the overly high bank loan interest rate of 24 percent, has pushed Thai Son against the wall. It could not pay debts, leading the company's debts reaching 752 billion dong by February 2012. Thai Son is still owing 180 billion dong to other seven companies.

However, Thu still tried to play tricks to obtain capital to maintain production by borrowing new loans to get money to pay for old debts.

SME Securities' Chair

On August 2, Phan Huy Chi, Chair and CEO of SME Securities was arrested for his behavior of appropriating assets.

Pham Minh Tuan, Deputy Chair of SME Securities was also arrested on the same day.

Sources said that Tuan instructed his staff to forge documents to sign contracts on capital contribution to invest in a batch of stocks. He received 107 billion dong from an insurance company and could not pay money back.
Compiled by Kim Chi